Tuesday, January 26
Council meeting, 1:30 pm
Tuesday, February 2
Council meeting, 6:00 pm
Friday, February 5
Deadline for candidates to qualify for city elections
Tuesday, February 9
Council meeting, 1:30 pm
Tuesday, February 16
Mardi Gras, all city offices are closed
Tuesday, February 23
Council meeting, 1:30 pm
Tuesday, March 2
Council meeting, 6:00 pm
Tuesday, March 16
Council meeting, 1:30 pm
Wednesday, March 17
Ward 5 meeting, 6:00 pm
Snyder Recreation Center
Tuesday, March 23
Council meeting, 1:30 pm
Friday, April 2
Good Friday, all city offices are closed

Tuesday, April 6
City Primary Election
Wednesday, April 7
Council meeting, 6:00 pm
Tuesday, April 13
Council meeting, 1:30 pm
Tuesday, April 20
Council meeting, 1:30 pm

Tuesday, April 27
Primary runoff elections…
if necessary
Monday, May 31
Memorial Day, all city offices are closed

Tuesday, June 8 
City General Election
Sunday, July 4
Independence Day
Monday, September 6
Labor Day, all city offices are closed
---


Primary Election, Tuesday, April 6th
The latest…                    Email me to receive your free/weekly Ward 5 eblast!
01/22/21  Next Council meeting:  Tuesday, January 26, 1:30 pm       Agenda
    Of particular interest to those in Ward 5…
1) 4A Amendments to city ordinances re Fireworks
2) 4B Conditional use for RV Park on Debuys Road
3) 4D Resolution supporting local & private bill, low-speed vehicles
4) 5D Renewal of management agreement with Mardi Gras Museum
01/22/21    I received a small card  (front  back) from Mississippi Power Company in the mail this week… They'll be in the River Place subdivision in the coming weeks to trim trees and perform other vegetation management tasks.  (You might want to check your mail to see if you received a notice about your neighborhood.) Questions? 800.532.1502
01/22/21  Keesler Air Force Base new Main Gate is scheduled to be open about a year from now.  The pic below shows that infrastructure construction has already begun on the base property.  Work to widen Division Street from the I-110 ramp west to Forrest Avenue and the new Main Gate has already begun.  See pics of  Division Street, to be widened for this project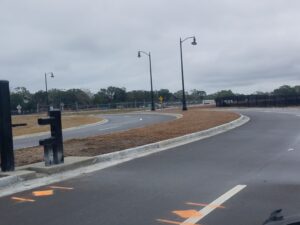 01/16/21  I drove the streets in Ward 5 again today and made a list of addresses that still have piles of vegetation only, debris only, or mixed (vegetation & debris) for Public Works to add to their city-wide pickup list.  Pretty much anything that's not picked up by the contracted debris hauler in the next couple of days will be picked up by Biloxi Public Works crews.  So, be patient… they'll be working these pickups as fast as they can… in addition to emergencies that arise and their regularly scheduled tasks that keep the city running! 
01/11/21  Construction is scheduled to begin soon on the latest boardwalk along Biloxi's waterfront, on Back Bay from Forrest Avenue to Kensington.  This $2.2M boardwalk project (funded by a GOMESA grant and a Tidelands grant) is scheduled to be completed in late September or October… learn more
12/16/20  Compare water, sewer & garbage rates with our neighbors
06/14/20 Hurricane Katrina infrastructure projects; still ahead…
   The "North Project" (roughly Biloxi Bay to the beach, from Forrest Avenue to Point Cadet) has gotten a lot of attention because it's huge and has taken years more to complete than anticipated… some would say never ending.  But, the North Project is nearing completion… Oscar Renda Contractors are wrapping up pipe installation repairs before putting a final layer of asphalt down on the remaining roads. Finishing fence replacements, incomplete sidewalks, etc., will continue for the next several months.
   All Hurricane Katrina infrastructure projects north of the railroad tracks (and those north of Biloxi Bay) have been completed with the exception of the North Project .
   Still, more projects lie ahead… all south of the railroad tracks.   See Map
| | | | |
| --- | --- | --- | --- |
| | | | |
| Project Code | Contractor | Est Finish | Est Cost |
| SXSS | Lane Construction   | Fall, 2021 | $11.0M |
| STM1 & STM2 | Necaise Brothers | Summer 2023 | $32.0M |
| BEA1, BEA2, BEA3  | Bid award, early 2021 | 18 months | $18.2M |
| ROD9 | Bids in summer 2021 | N/A | $15.3M |
| BVE1 & BVE2 | Bids in spring 2022 | N/A | $24.1M |
   After bids are awarded but before construction begins to replace the water lines, sewer lines, drainage lines, roads and sidewalks, a pre-construction meeting will be scheduled for an explanation of what will be occurring and to answer questions neighborhood residents may have.  If you live in one of those neighborhoods, be sure to attend!  It's been my experience that only about 10% of the residents, if that many, attend these pre-construction meetings… they're for your benefit.

228.297.6800 (cell)
ptisdale1@yahoo.com
Citizen's Representative


(complaints/concerns)


cross@biloxi.ms.us




228.435.6271

Garbage
Waste Management
228.701.9086, press 1

Hazardous Material Disposal


2nd Sat. of month, 8:00-12:00
10076 Lorraine Rd., Gulfport
Mobile Food Vending


Ordinance


Development Review Application
Vendor Requirements
Streetlight out in Ward 5?
1.800.487.3275, or
Mississippi Power click here

Trash,

limbs, yard waste
Pelican Waste
228.701.9086, press 2
Ward Map  

(city GIS)

Water & Sewer rates
   (effective 10/01/20)
What's the HCUA charge?

Water,

sewer, gas, or drainage
emergency after working hours?


Police Dispatch, 228.392.0641