Tuesday, June 2
Council Meeting, 6:00 pm
Tuesday, June 16
Council Meeting, 1:30 pm
Sunday, June 21
Father's Day
Tuesday, June 23
Council Meeting, 1:30 pm
Friday, July 3
Independence Day
All city offices are closed
Tuesday, July 7
Council Meeting, 6:00 pm
Tuesday, July 21
Council Meeting, 1:30 pm
Tuesday, July 28
Council Meeting, 1:30 pm
Monday, September 7
Labor Day
All city offices are closed
Saturday, October 3
St. Patrick's Day Parade, 2:00 pm
Parade Map  Participant Registration
St. Pat's 5K Derby Run
Thu-Fri, November 26-27
Thanksgiving
All city offices are closed
Thu-Fri, December 24-25
Christmas
All city offices are closed

The latest…                    Email me to receive the free/weekly Ward 5 eblast!
(05/26/20) Good news! I received word at today's city council meeting that CSX will be scheduling repairs to the Eisenhower Drive railroad crossing for August… no specific date yet; will post that info when it becomes available. Thanks again to all who took the time to fill out the repair request form at the CSX website.  See video report, courtesy of  Keith Wilson, award-winning multimedia journalist.
(05/26/20)  The city's Natatorium will reopen, under Phase 1, to the public on Tuesday, June 1, for lap swimming only.  To see the guidelines to enter and swim, click here.   The Donal Snyder Recreation Center, currently closed for air conditioning and pool repairs, is expected to reopen in late June.
(05/21/20)  902 Howard Avenue, former site of Josette's and Borden's prior to that, has been approved for one of Biloxi Main Street District's Downtown Housing Incentive Grants.  The renovation will create 24 residential units at the corner of Howard Avenue and Caillavet Street.   Learn more (WLOX)

(05/18/20)  Repairs to Saenger Theatre roof are moving forward…  The scope of work for this phase of the project is for the repair of the fly tower, replacement heating and air conditioning units, repair of the north, south and east masonry walls of the auditorium and the roof of the auditorium.

(05/06/20)  Improvements slated for the stretch of beach from Oak Street west to the Small Craft Harbor: (1) the sand beach will be re-nourished, (2) a boardwalk will be constructed, and (3) the Kuhn Street boat launch will be enlarged… two more boat launches and almost triple the parking space.  Funding will come from GOMESA and Tideland grants; no word on the projected timeline yet.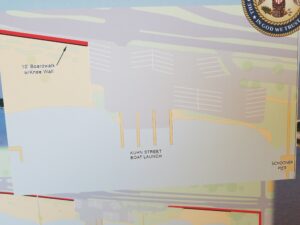 Section of pre-fab boardwalk             Kuhn Street boat launch

228.297.6800 (cell)
ptisdale1@yahoo.com
Citizen's Representative
(complaints/concerns)


cross@biloxi.ms.us




228.435.6271

Garbage


Team Waste, 228.328.1820

HarCo Utility Authority (HCUA)


228.868.8752

Hazardous Material Disposal


2nd Sat. of month, 8:00-12:00
10076 Lorraine Rd., Gulfport
Trash, limbs, yard waste


Pelican Waste & Debris




228.232.0850

Streetlight out in Ward 5?
1.800.487.3275, or
Mississippi Power click here
Water, sewer, gas, or drainage
emergency after working hours?


Police Dispatch, 228.392.0641