Sunday, November 19
–Special Needs & Family Thanksgiving Dinner, 11:00
Tuesday, November 28
-Council Meeting, 1:30 pm
-Workshop on Panhandling ordinance immediately after the council meeting ends.
Friday, December 1
–Christmas Parade, 6:00 pm
–Christmas on the Town Green
after the Christmas Parade
Saturday, December 2
–Registration, Youth Basketball League, 9:00 am
Tuesday, December 5
-Council Meeting, 6:00 pm
Saturday, December 9
–Come Learn with Santa, 10:00
Tuesday, December 12
-Council Meeting, 1:30 pm
Wed-Thur, December 13-14
–North Pole Calling
Tuesday, December 19
-Council Meeting, 1:30 pm

REMINDERS…
(09/29/17)  Team Waste (Garbage) 228.328.1820
Pelican Waste & Debris (trash, limbs, etc.) 228.232.0850
Harrison County Utility Authority (HCUA) 228.868.8752
(07/06/17)  Citizens' Representative for complaints/concerns… 228.435.6271 or cross@biloxi.ms.us
(03/21/17)  To report a burned out streetlight: Mississippi Power click here
(03/08/17)  To report a water, sewer, gas, or drainage emergency after working hours, call Police Dispatch, 228.392.0641
(03/08/17)  Dispose of your hazardous materials the second Saturday of the month, 8:00-12:00 at 10076 Lorraine Rd., Gulfport
(12/04/16)   Road Closings and Traffic Advisories
(11/15/16)   Sign up for free Bmail!
(08/19/16) HURRICANE PREPAREDNESS (MDOT)
(02/15/16)  Crime Mapping tracks crime, by location, in Biloxi.  See Frequently Asked Questions to understand how this program may help you.
(02/15/16)  Looking for an item that appeared on this page previously but is no longer listed/shown? Click Here
ptisdale1@yahoo.com                     228.297.6800
---
City Desk    City Meetings    Jobs    Crime Mapping
(11/15/17)  Garbage/recycling/trash pick up schedule for Thanksgiving:
Thursday, November 23… No pick up!!
– If your scheduled service day was Thursday, November 23, your garbage/recycling/trash waste will be picked up Friday, November 24.
– If your scheduled service day was Friday, November 24, your garbage/recycling/trash waste will be picked up Saturday, November 25.
See/Print the HCUA Notice

(11/15/17)  Update on the Public Hearing on the proposed Special Events ordinance)  Thanks to those who attended the Public Hearing, particularly those who commented: representatives of Cruisin' the Coast, Krewe of Neptune, Gulf Coast Carnival Association, and Scrapin' the Coast, and Nicole Sullivan (who did much of the research associated with the ordinance; she was present to note concerns and answer questions).  Those concerns revolved around additional costs associated with events and the "chilling effect" it might/would have on future event organizers. No one representing Spring Break attended the hearing; not surprising since it's primarily a social media driven event.  Several council members echoed concerns that were raised and made clear the need for a different approach to manage Spring Break, particularly; they could not support the proposed ordinance in its current form.  The only alternative offered, by T. Nathan Fairley, was for the City to manage Spring Break, which occurs annually in early April.  Attendance for this past April has been estimated between 65,000 to 85,000.  Chief John Miller noted that additional law enforcement could be secured (pay them, feed them, house them) for Spring Break but it would come with a price tag, which the city has not budgeted for FY2018 and would run into hundreds of thousands of dollars. Police Chief Miller and Fire Chief Boney noted their safety/logistics concerns related to traffic gridlock that was evident this past April.  The proposed ordinance was Tabled Subject to Call at the November 7, Council meeting.   As reported by WLOX     As reported by WXXV  
(11/15/17)  Lifeguards!!!  Most people think of swimming as a summertime pursuit, but, the fact is, Biloxi's two indoor public pools are open year 'round, and the city is always seeking certified lifeguards to staff the Biloxi Natatorium and Donald M. Snyder Community Center.  Click here to learn more about lifeguarding     Click here to see the lifeguard job post
(11/13/17)  I received word today from the Harrison County Utility Authority (HCUA) that Team Waste (new solid waste/garbage contractor) will only be collecting garbage that is in the brown HCUA carts. All contents must be inside the cart.  ALSO… PelicanWaste (new yard waste/rubbish contractor) has started collecting all the old non-Waste Pro carts this week. The carts must be empty and placed upside down curbside or in a rubbish/yard waste pile.
(11/12/17)  If you have constructive comments or concerns related to the proposed ordinance on Special Events in the city of Biloxi, please note that a Public Hearing, for the specific purpose of hearing comments and concerns related to this proposed ordinance, is scheduled for Tuesday afternoon, following the regularly scheduled Council meeting at 1:30.  Don't miss this opportunity to be heard on this matter!  Read the proposed ordinance.
(11/04/17)  The ordinance dealing with city holidays may be causing unnecessary concern for city employees.  City ordinance 15-2-2, designates legal holidays for all city employees, except emergency employees (fire, police, etc.), and currently lists 12 holidays… but state statute 3-3-7 permits only 10 holidays.  However, the governor, by proclamation, may declare discretionary holidays which municipalities may then adopt by resolution.  Governor Bryant has already declared Friday, November 24, and Tuesday, December 26, as discretionary holidays in 2017.  So, although adopting the ordinance on Tuesday's agenda trims two city holidays from the city  ordinance, a Council resolution adding the governor's two discretionary holidays would restore two additional holidays in this calendar year.  (Several Attorney General opinions have made it clear that municipalities cannot add holidays to the list specified by state statute unless the governor's proclaimed discretionary holidays are adopted by local resolution.)
Update, 11/12/17… This proposed ordinance died for lack of a Second.

(11/04/17)  The first phases, BVW1 and BVW2, of the "South Project" (FEMA infrastructure rebuild, south of the railroad tracks) will begin in January, 2018. BVW1 runs, roughly, from White Avenue west to where Miller Street begins, i.e., the west end of Father Ryan Avenue, between Irish Hill and Highway 90.  BVW2, generally, runs from Azalea east to Seal Avenue, but does not include all properties in that area south of the railroad tracks.  I'm basing this description on the map that was included in an October 27 Bmail. Click here to see the map I'm referring to.
(11/01/17)  Reminder: Set your clocks back 1 hour before going to bed Saturday night… Daylight Savings Time ends!

(11/01/17)  North Pole Calling is a program designed by the City of Biloxi Parks & Recreation Department and co-sponsored by the Biloxi Fire Department, Biloxi Police Department and Biloxi High JROTC. This program offers children in Pre-School, Kindergarten, First and Second grades an opportunity to talk directly with Santa Claus and his Elves on Wednesday, Dec. 13 and Thursday, Dec. 14.  Read more and sign up… click here
(11/01/17)  You can receive timely advisories and news about city issues and events of community interest by signing up for Bmail from the City of Biloxi. It's a free service.  click here
(10/30/17)  Trick or treaters… safety tips!
(10/30/17)  The city has lifeguard vacancies at Donal Snyder Community Center and the Natatorium… click here to learn more or call the Natatorium, 228.435.6108, for more information.
(10/30/17)  The city is upgrading the public parking area south of the Biloxi Lighthouse. The 60-day, $70,000 project by Twin L Construction includes removing the guardrail between the beach and parking area and installing concrete bollards. The site also will see new parking lot islands, curbing and landscaping. There will also be a designated staging area for the Biloxi Tour Train and the center entrance and exit, east of the Biloxi Lighthouse will be closed to allow for additional parking.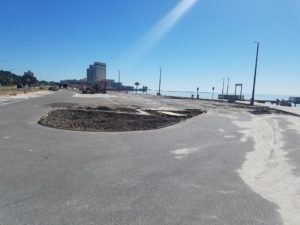 (10/28/17)  55 or older? Find out about the city of Biloxi's Seniors Program… click here
(10/05/17)  The Biloxi City Council received the final draft of Biloxi's Downtown Restoration Plan, an 85-page document that lays out a year-by-year timetable for progress, with identified funding sources for much of the work and a host of incentives for small businesses.  Links…
Read the entire final draft
See the proposal for Howard Avenue
In a nutshell, year-by-year    
Looking for past postings that you saw on this page?  Click here