Thu-Fri, November 26-27
Thanksgiving, all city offices closed
Tuesday, December 1
Council meeting, 6:00 pm
Tuesday, December 15
Council meeting, 1:30 pm
Thu-Fri, December 24-25
Christmas, all city offices are closed
Tuesday, December 29
Council meeting, 1:30 pm
Friday, January 1
– New Year's, all city offices are closed
– Qualifying period begins and runs through Saturday, February 6, for candidates for city elective offices.  Candidates must be a resident of the city for the previous two (2) years.  Additional information may be obtained from the city Municipal Clerk at city hall.
Tuesday, January 5
Council meeting, 6:00 pm
Monday, January 18
Dr. Martin Luther King, Jr. Day
All city offices are closed
Tuesday, January 19
Council meeting, 1:30 pm
Tuesday, January 26
Council meeting, 1:30 pm
Saturday, February 6
Deadline for candidates to qualify for city elections
Tuesday, February 16
Mardi Gras, all city offices are closed
Friday, April 2
Good Friday, all city offices are closed
Tuesday, April 6
City Primary Election
   

Tuesday, April 27
Primary runoff elections…
if they are necessary
   

Monday, May 31
Memorial Day, all city offices are closed
Tuesday, June 8  
City General Election
   

Sunday, July 4
Independence Day
Monday, September 6
Labor Day, all city offices are closed
---
The latest…                    Email me to receive your free/weekly Ward 5 eblast!
11/25/20  Next Council meeting:  Tue, Dec 1, 6:00 pm       Agenda
   Of particular interest…  Click here to view the Council meeting live
(1) 4A First Reading: Amend ordinance, Short-term rentals & timeshares
(2) 4B Vacation of part of Croesus Street
(3) 4C Grant Conditional Use for short-term rental, 141 Briarfield Avenue
(4) 5G Quarterly payment to Coast Transit Authority
(5) 5H Amendment, Downtown Housing Incentive Grant, 902 Howard Ave
(6) 5J Payment of real property taxes to Harrison County for Sprint Nextel
(7) 5K Extend engineering contract, Neel-Schaffer, Popps Ferry extension
(8) 5L Change order for Saenger Theatre exterior repairs
11/10/20  Two new city firetrucks boasting the latest design and compartmentalization technology to reduce firefighters' exposure to carcinogens are now in operation.  (The National Institute for Occupational Safety and Health (NIOSH) recently concluded that firefighters face a 9 percent increase in cancer diagnoses, and a 14 percent increase in cancer-related deaths, compared to the general population in the U.S.)

11/09/20  Demolition of homes in the path of the Popp's Ferry extension (Pass Road to Hwy 90) continues.

11/06/20  After receiving a couple of calls from constituents about Pelican Waste trucks not picking up bagged trash curbside, I spoke with an HCUA (Harrison County Utility Authority) official about priorities in garbage and trash pickup.  Here's what I learned:  Pelican Waste trucks are prioritizing bagged items that appear to contain spoiled/food items. They'll return for a second pass to get bagged trash items later on pickup day or the next day.
10/27/20) A proposed RV park on Debuys Road was before the Development Review Committee this morning.  Three parcels totaling 2.3 acres will provide 14 RV pads; zoned NB Neighborhood Business, no protected trees will be removed.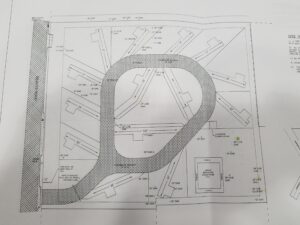 Left, Site plan     Right, Picture of property; that's the old Gulf Coast Community Hospital in the background
10/27/20  Representatives from the state Department of Revenue were down to answer administration and council questions related to short-term rental properties, tax collection, and monthly municipal tax diversions (the city's portion of collected state sales tax).  To see the 90 minute workshop click here
10/14/20  Miss the Ward 5 meeting?  See the video  See written summary
06/14/20 Hurricane Katrina infrastructure projects; still ahead…
   The "North Project" (roughly Biloxi Bay to the beach, from Forrest Avenue to Point Cadet) has gotten a lot of attention because it's huge and has taken years more to complete than anticipated… some would say never ending.  But, the North Project is nearing completion… Oscar Renda Contractors are wrapping up pipe installation repairs before putting a final layer of asphalt down on the remaining roads. Finishing fence replacements, incomplete sidewalks, etc., will continue for the next several months.
   All Hurricane Katrina infrastructure projects north of the railroad tracks (and those north of Biloxi Bay) have been completed with the exception of the North Project .
   Still, more projects lie ahead… all south of the railroad tracks.   See Map
| | | | |
| --- | --- | --- | --- |
| | | | |
| Project Code | Contractor | Est Finish | Est Cost |
| SXSS | Lane Construction   | Fall, 2021 | $11.0M |
| STM1 & STM2 | Necaise Brothers | 30 months | $32.0M |
| BEA1, BEA2, BEA3  | Bids in fall 2020 | 18 months | $18.2M |
| ROD9 | Bids in summer 2021 | N/A | $15.3M |
| BVE1 & BVE2 | Bids in spring 2022 | N/A | $24.1M |
   After bids are awarded but before construction begins to replace the water lines, sewer lines, drainage lines, roads and sidewalks, a pre-construction meeting will be scheduled for an explanation of what will be occurring and to answer questions neighborhood residents may have.  If you live in one of those neighborhoods, be sure to attend!  It's been my experience that only about 10% of the residents, if that many, attend these pre-construction meetings… they're for your benefit.

228.297.6800 (cell)
ptisdale1@yahoo.com
Citizen's

Representative
(complaints/concerns)


cross@biloxi.ms.us




228.435.6271

Garbage
Waste Management
228.701.9086, press 1

Hazardous Material Disposal


2nd Sat. of month, 8:00-12:00
10076 Lorraine Rd., Gulfport
Mobile Food Vending


Ordinance


Development Review Application
Vendor Requirements
Streetlight out in Ward 5?
1.800.487.3275, or
Mississippi Power click here
Trash, limbs, yard waste
Pelican Waste
228.701.9086, press 2
Ward Map  

(city GIS)

Water & Sewer rates
   (effective 10/01/20)
What's the HCUA charge?
Water, sewer, gas, or drainage
emergency after working hours?


Police Dispatch, 228.392.0641