Tuesday, July 21
Council Meeting, 1:30 pm
Budget Workshop immediately after
Tuesday, July 28
Council Meeting, 1:30 pm
Budget Workshop immediately after
Tuesday, August 4
Council Meeting, 6:00 pm
Tuesday, August 18
Council Meeting, 1:30 pm
Tuesday, August 25
Council Meeting, 1:30 pm
Monday, September 7
Labor Day
All city offices are closed
Saturday, October 3
St. Patrick's Day Parade, 2:00 pm
Parade Map  Participant Registration
St. Pat's 5K Derby Run
Thu-Fri, November 26-27
Thanksgiving
All city offices are closed
Thu-Fri, December 24-25
Christmas
All city offices are closed

---
Budget Workshop Documents
The latest…                    Email me to receive the free/weekly Ward 5 eblast!
(07/09/20)  Mayor Gilich has issued his eighth Executive Order, effective 8:00 a.m., Friday, July 10, 2020, related to the COVID-19 pandemic, that requires the use of face coverings by city employees and persons entering city buildings within the city of Biloxi, in conjunction with the Governor's Executive Order scheduled to take effect in Harrison County on July 13, 2020.  See the Mayor's 8th Executive Order
Face coverings are not required:
– For people whose religious beliefs prevent them from wearing a face covering.
– For those who cannot wear a face covering due to a medical or behavioral condition.
– For children under 10 years old.
– In private, individual offices.
– In settings where it is not practical or feasible to wear a face covering, including when exercising or swimming.
– While speaking during council meetings provided social distancing is being followed.
– All city employees are required to wear a face covering when dealing with the public whether inside or outside.
– Violations of this Executive Order may be subject to misdemeanor prosecution in accordance with City Code Sect 13-1-15 (fine not to exceed $1,000.00 or imprisonment not exceeding 90 days or both), Miss Code Sect 45-17-9 (fine not exceeding $300.00 or 6 months imprisonment, or both such fine and imprisonment), and Miss Code, Sect 33-15-43 $500.00 or imprisonment for not exceeding 6 months or both).
(06/24/20, Bmail, abridged)  The city is a step closer to launching its next waterfront improvement project, a 1,700-foot concrete boardwalk, pavilion with lookouts and benches in the area along Back Bay, west of the Forrest Avenue pier and boat ramp.  The $3 million project will be funded through the Gulf of Mexico Energy Security Act of 2006, or GOMESA, a revenue-sharing model for oil- and gas-producing gulf states.  The boardwalk, which would also connect to a city park on Kensington Drive, would vary in width from about five feet to 50 feet, depending on available right of way, and will not impact existing wetlands. The pavilion would be 24 feet by 24 feet.  The project may be going out for bids next week with a bid opening by early August. The project will be ADA-compliant, and will include a hand rail installed along the north edge of the boardwalk. Solar lights will be used to illuminate the walking surface and under the pavilion.  See pics   See the drawing
(06/17/20)  If you bag your trash and yard waste and stick it out by the curb, Pelican Waste will pick it up, right?  Well that depends… under the terms of their contract, they don't have to pick up trash, bagged or not, if it's not in front of a residence.  So, if you bag your trash and leave it curbside on an empty lot across the street, it's going to sit there.  Get the service you're paying for by placing your trash properly, curbside in front of your home.
Yes, properly placed!   No…                                 Not even close…


How and when does that improperly placed trash get picked up?  Well, someone has to call the city's Public Works department to send a truck out to pick it up… and that means they're pulled off their regular tasks (cutting grass, cleaning street drains, road repairs, etc.).  So, please do your part to get your money's worth from your tax dollars and beautify your neighborhood.  Thank you.
(06/14/20) Hurricane Katrina infrastructure projects; still ahead…
   The "North Project" (roughly Biloxi Bay to the beach, from Forrest Avenue to Point Cadet) has gotten a lot of attention because it's huge and has taken years more to complete than anticipated… some would say never ending.  But, the North Project is nearing completion… Oscar Renda Contractors are wrapping up pipe installation repairs before putting a final layer of asphalt down on the remaining roads. Finishing fence replacements, incomplete sidewalks, etc., will continue for the next several months.
   All Hurricane Katrina infrastructure projects north of the railroad tracks (and those north of Biloxi Bay) have been completed with the exception of the North Project .
   Still, more projects lie ahead… all south of the railroad tracks.   See Map
| | | | |
| --- | --- | --- | --- |
| Project Code | Contractor | Est Finish | Est Cost |
| BVW1& BVW2 | Hemphill Construction | Aug, 2020 | $26.7M |
| SXSS | Lane Construction   | Fall, 2021 | $11.0M |
| STM1 & STM2 | Bids late summer 2020 | 30 months | $32.0M |
| BEA1, BEA2, BEA3  | Bids in fall 2020 | 18 months | $18.2M |
| ROD9 | Bids in summer 2021 | N/A | $15.3M |
| BVE1 & BVE2 | Bids in spring 2022 | N/A | $24.1M |
   After bids are awarded but before construction begins to replace the water lines, sewer lines, drainage lines, roads and sidewalks, a pre-construction meeting will be scheduled for an explanation of what will be occurring and to answer questions neighborhood residents may have.  If you live in one of those neighborhoods, be sure to attend!  It's been my experience that only about 10% of the residents, if that many, attend these pre-construction meetings… they're for your benefit.
(05/06/20)  Improvements slated for the stretch of beach from Oak Street west to the Small Craft Harbor: (1) the sand beach will be re-nourished, (2) a boardwalk will be constructed, and (3) the Kuhn Street boat launch will be enlarged… two more boat launches and almost triple the parking space.  Funding will come from GOMESA and Tideland grants; no word on the projected timeline yet.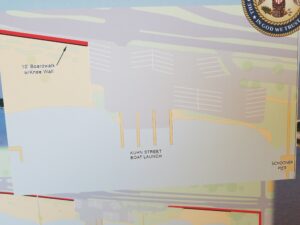 Section of pre-fab boardwalk             Kuhn Street boat launch

228.297.6800 (cell)
ptisdale1@yahoo.com
Citizen's Representative
(complaints/concerns)


cross@biloxi.ms.us




228.435.6271

Garbage
Waste Management
228.701.9086, press 1

Hazardous Material Disposal


2nd Sat. of month, 8:00-12:00
10076 Lorraine Rd., Gulfport
Streetlight out in Ward 5?
1.800.487.3275, or
Mississippi Power click here
Trash, limbs, yard waste
Pelican Waste
228.701.9086, press 2
Water, sewer, gas, or drainage
emergency after working hours?


Police Dispatch, 228.392.0641