Wednesday, March 29
Ward 5 meeting, 5:30 pm
Snyder Center, Pass Road
Tuesday, April 4
Council meeting, 6:00 pm
Friday, April 7
Good Friday
All city offices are closed
Thur, Apr 13 – Sun, Apr 16
Spring Break
Tuesday, April 18
Council meeting, 1:30 pm
Tuesday, April 25
Council meeting, 1:30 pm
Sat-Sun, April 29-30
Keesler AFB Air Show
Tuesday, May 2
Council meeting, 6:00 pm
Tuesday, May 16
Council meeting, 1:30 pm
Tuesday, May 23
Council meeting, 1:30 pm
Monday, May 29
Memorial Day
All city offices are closed
Tuesday, June 6
Council meeting, 6:00 pm
Tuesday, June 13
Council meeting, 1:30 pm
Tuesday, June 20
Council meeting, 1:30 pm
Tuesday, July 4
Independence Day
All city offices are closed
Tuesday, July 11
Council meeting, 6:00 pm
Tuesday, July 18
Council meeting, 1:30 pm
Tuesday, July 25
Council meeting, 1:30 pm
Tuesday, August 8
Primary Election Day for state and county offices
Tuesday, August 29
Primary Runoff Election Day for state and county offices, if needed
Monday, September 4
Labor Day
All city offices are closed
Saturday, November 4
Move your clocks back 1 hour before going to bed!
Tuesday, November 7
General Election Day for state and county offices

---
Email me to receive the free Ward 5 eblast!       See past issues
03/22/23  What the garbage/trash contractors will/will not pick up… click on image to enlarge.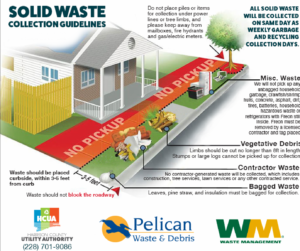 03/15/23  The next Ward 5 meeting will be Wednesday, March 29, 5:30 pm, Donal Snyder Recreation Center, Pass Road.  This meeting is open to the public; anyone can attend.  Agenda draft
03/01/23   The city's Development Review Committee heard presentations for a couple of proposed developments in Ward 5 this morning.  Among them:
(1) Townhomes (four units), 2764 Mission Lane, Pic 1  Pic 2… zoned appropriately, no action is necessary by the Planning Commission or the Council;
(2) Hotel and retail plaza, Pic… at 2694 Beach Boulevard corner of Gateway Drive and frontage road north of Hwy 90 (site of Landry's Restaurant before Hurricane Katrina, I think), a zone change is planned, from NB-Neighborhood Business to CB-Community Business, and action is necessary by the Planning Commission and Council. 
(3) In Ward 1, a proposal by Loaves & Fishes, Pic 1  Pic 2, requires a conditional use and an appearance before the Planning Commission followed by a Council vote.
02/03/23  Keesler Federal Credit Union (KFCU) plans to expand their Biloxi location…  Read their narrative (page 1, page 2) for their zoning change request that the Planning Commission approved earlier this week.  It's anticipated that the city council will act on the Planning Commission's recommendation Tuesday, February 14.  Click on images to enlarge them.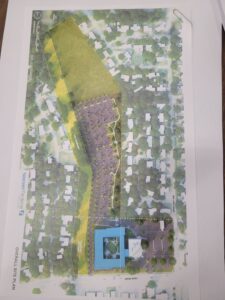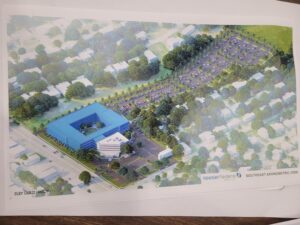 228.297.6800 (cell)
ptisdale1@yahoo.com
Citizen's

Representative
(complaints/concerns)


cross@biloxi.ms.us




228.435.6271

City Calendar

(2023)
Garbage
Waste Management
228.701.9086, press 1

Low-Speed

Vehicles (Golf Carts)
BPD summary
Sect. 20-4-1 to 20-4-4 
Mobile Food Vending
Ordinance
Development Review Application
Vendor Requirements
NFIP  (09/05/21)
NFIP Workshop video (09/14/21)
Streetlight out in Ward 5?
1.800.487.3275, or
Mississippi Power click here
Taxes (millage, historical)
Trash, limbs, yard waste
Pelican Waste
228.701.9086, press 2
Ward Map  (Nov 2021)
Water & Sewer rates
   (effective 10/01/22)
What's the HCUA charge?
Water, sewer, gas, or drainage
emergency after working hours?


Police Dispatch, 228.392.0641

West Biloxi

Master

Plan
Quick reference Ward 5 only
Quick reference all streets
••• See more links