Tuesday, August 4
–Special Election to approve the city council's ordinance granting Mississippi Power Co. a nonexclusive electric franchise in the city of Biloxi
–Budget Workshop, 5:00 pm
–Council Meeting, 6:00 pm
Wednesday, August 5
Biloxi Schools, 1st day of school
Tuesday, August 18
Council Meeting, 1:30 pm
Tuesday, August 25
Council Meeting, 1:30 pm
Tuesday, September 1
Council Meeting, 6:00 pm
Monday, September 7
Labor Day
All city offices are closed
Monday, September 14
Ward 5 meeting, 5:30 pm,
Snyder Recreation Center
2520 Pass Road
Tuesday, September 15
Council Meeting, 1:30 pm
Tuesday, September 22
Council Meeting, 1:30 pm
Saturday, October 3
St. Patrick's Day Parade, 2:00 pm
Parade Map  Participant Registration
St. Pat's 5K Derby Run
Monday, October 5
Deadline to register to vote in the General Election
Tuesday, November 3
Election Day, 7:00 am – 7:00 pm
Thu-Fri, November 26-27
Thanksgiving
All city offices are closed
Thu-Fri, December 24-25
Christmas
All city offices are closed

---
Budget Documents & Videos
Documents are DRAFTS until the
budget is adopted in mid-September.
Budget Workshop, 07/07/20, video
Budget Workshop, 07/21/20, video
Budget Doc, 07/21/20, Rev & Dept
Budget Doc, 07/28/20, Non-Dept
Budget Workshop, 07/28/20, video
The latest…                    Email me to receive your free/weekly Ward 5 eblast!
(07/31/20)  Next Council meeting: Tuesday, August 4, 6:00 pm    Agenda
   Of particular interest…  Click here to view the Council meeting live
(1) 4A First Reading: Regulations re short-term rentals and timeshares
(2) 4B Second Reading: Proposed garbage collection rate increase
(3) 4C Second Reading: Proposed water/sewer rate increase   See Table
(4) 5A Just compensation for Popp's Ferry Rd extension (Pass Rd-Hwy 90)
(5) 5B Adopt 2020-2024 CDBG Consolidated Plan and 2020 Action Plan
(6) 5G  Service Agreement for city-wide street cleaning
(7) 5H Renewal of management agreement, City & Ohr-O'Keefe Museum
(07/31/20)  Rate increases proposed for garbage collection and water & sewer rates; city council will vote Tuesday, August 4th.  See the garbage rate proposal     See the water & sewer rate proposal
   Each briefly explained:
(1) Garbage- The cost of garbage/trash, now $14.80/month, will increase to $15.77 per residential & commercial property/month.
(2) Water & Sewer-  Click here to see table of past, current, and proposed rates  If you're a typical residential water user (about 70% use less than 5,000 gal/month), you probably used 4,000-5,000 gal of water/month.  Assume you're using 5,000/month, the city's monthly increase on your water bill in FY 2021 (in effect, October 1, 2020) will be 3 cents/1,000 gal, or 15 cents… PLUS… the sewer increase of 6 cents/1,000 gal, or 30 cents… PLUS…  the HCUA charge (I'm estimating 2.5 times the city rate) will be about 38 cents for water and 75 cents for sewer.  Total increase for city and HCUA for 5,000 gal… about $1.58/month… if my HCUA estimate and calculations are correct.
(07/27/20) Governor Reeves' COVID-19 executive orders summarized
(07/24/20)  The first day of school for Biloxi Public School students is Wednesday, August 5.    See more info
See Student Handbooks (English, Spanish and Vietnamese)
(07/23/20)  As work on the FY21 (2020-2021) budget progresses, I'll be posting links to budget workshop videos and documents on this page… bottom of the left column.
(07/18/20)  Progress continues on Phase 2 (Veterans Ave. to Camellia St.) of the West Biloxi Boardwalk…  See more pics

(07/18/20)  Seems timely, since the Popp's Ferry bridge was struck again by a barge this past week, to post this 2014 Popp's Ferry bridge presentation, which is updated over the years as the multi-year funding challenges continue.
(07/13/20)  Help the City of Biloxi fight crime!  The Biloxi Police Department would like business and residential video camera owners to register their camera locations with the department as part of a new public safety initiative.  This will enable officers to quickly and securely obtain recorded video in the event of an incident at a particular location.   Read more…
(06/24/20, Bmail, abridged)  The city is a step closer to launching its next waterfront improvement project, a 1,700-foot concrete boardwalk, pavilion with lookouts and benches in the area along Back Bay, west of the Forrest Avenue pier and boat ramp.  The $3 million project will be funded through the Gulf of Mexico Energy Security Act of 2006, or GOMESA, a revenue-sharing model for oil- and gas-producing gulf states.  The boardwalk, which would also connect to a city park on Kensington Drive, would vary in width from about five feet to 50 feet, depending on available right of way, and will not impact existing wetlands. The pavilion would be 24 feet by 24 feet.  The project may be going out for bids next week with a bid opening by early August. The project will be ADA-compliant, and will include a hand rail installed along the north edge of the boardwalk. Solar lights will be used to illuminate the walking surface and under the pavilion.  See pics   See the drawing
(06/17/20)  If you bag your trash and yard waste and stick it out by the curb, Pelican Waste will pick it up, right?  Well that depends… under the terms of their contract, they don't have to pick up trash, bagged or not, if it's not in front of a residence.  So, if you bag your trash and leave it curbside on an empty lot across the street, it's going to sit there.  Get the service you're paying for by placing your trash properly, curbside in front of your home.
Yes, properly placed!   No…                                 Not even close…


How and when does that improperly placed trash get picked up?  Well, someone has to call the city's Public Works department to send a truck out to pick it up… and that means they're pulled off their regular tasks (cutting grass, cleaning street drains, road repairs, etc.).  So, please do your part to get your money's worth from your tax dollars and beautify your neighborhood.  Thank you.
(06/14/20) Hurricane Katrina infrastructure projects; still ahead…
   The "North Project" (roughly Biloxi Bay to the beach, from Forrest Avenue to Point Cadet) has gotten a lot of attention because it's huge and has taken years more to complete than anticipated… some would say never ending.  But, the North Project is nearing completion… Oscar Renda Contractors are wrapping up pipe installation repairs before putting a final layer of asphalt down on the remaining roads. Finishing fence replacements, incomplete sidewalks, etc., will continue for the next several months.
   All Hurricane Katrina infrastructure projects north of the railroad tracks (and those north of Biloxi Bay) have been completed with the exception of the North Project .
   Still, more projects lie ahead… all south of the railroad tracks.   See Map
| | | | |
| --- | --- | --- | --- |
| Project Code | Contractor | Est Finish | Est Cost |
| BVW1& BVW2 | Hemphill Construction | Aug, 2020 | $26.7M |
| SXSS | Lane Construction   | Fall, 2021 | $11.0M |
| STM1 & STM2 | Bids late summer 2020 | 30 months | $32.0M |
| BEA1, BEA2, BEA3  | Bids in fall 2020 | 18 months | $18.2M |
| ROD9 | Bids in summer 2021 | N/A | $15.3M |
| BVE1 & BVE2 | Bids in spring 2022 | N/A | $24.1M |
   After bids are awarded but before construction begins to replace the water lines, sewer lines, drainage lines, roads and sidewalks, a pre-construction meeting will be scheduled for an explanation of what will be occurring and to answer questions neighborhood residents may have.  If you live in one of those neighborhoods, be sure to attend!  It's been my experience that only about 10% of the residents, if that many, attend these pre-construction meetings… they're for your benefit.
(05/06/20)  Improvements slated for the stretch of beach from Oak Street west to the Small Craft Harbor: (1) the sand beach will be re-nourished, (2) a boardwalk will be constructed, and (3) the Kuhn Street boat launch will be enlarged… two more boat launches and almost triple the parking space.  Funding will come from GOMESA and Tideland grants; no word on the projected timeline yet.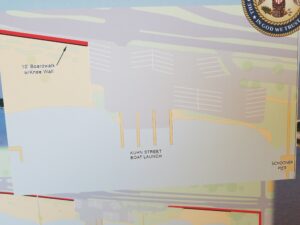 Section of pre-fab boardwalk             Kuhn Street boat launch

228.297.6800 (cell)
ptisdale1@yahoo.com
Citizen's Representative
(complaints/concerns)


cross@biloxi.ms.us




228.435.6271

Garbage
Waste Management
228.701.9086, press 1

Hazardous Material Disposal


2nd Sat. of month, 8:00-12:00
10076 Lorraine Rd., Gulfport
Streetlight out in Ward 5?
1.800.487.3275, or
Mississippi Power click here
Trash, limbs, yard waste
Pelican Waste
228.701.9086, press 2
Water, sewer, gas, or drainage
emergency after working hours?


Police Dispatch, 228.392.0641